"ClickPOS would like to reiterate again that ePay product maintenance is to be handled by your company.
Agreements are considered private and remain between ePay and your company.
ClickPOS does not have any access to your agreement which included commission-able rates and/or pricing. We can only provide the initial list of products based on information ascertained from ePay and your company at the time of establishment.
As an integrated ePay user your responsibilities are as follows..
Pricing Maintenance (Sale/RRP, G.S.T, and Purchase price)
Creation or Importing of new product lines if the product is not currently in your product catalog
ClickPOS do not have any access to new products and/or pricing. We merely create an integration connection between ClickPOS and EPAY to generate the voucher pin. In the past, there were a few occasions where we uploaded and tried to maintain on behalf of the clients as goodwill.
Below is a screenshot that would be helpful in manually adding vouchers in ClickPOS ($100 voucher is being used as an example, you can use this as a reference to create the new vouchers) :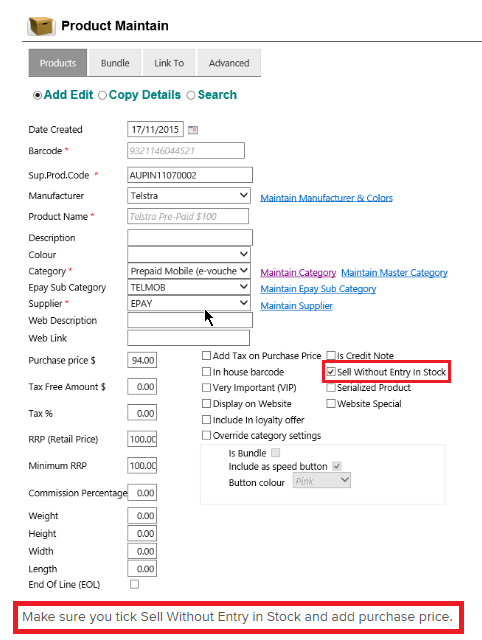 Make sure the Barcode and Supplier Product information is available before starting
If you need further assistance in adding products into catalogue, please refer to the user guide - Product Maintain - Maintaining Product Lines
*Please do not hesitate contacting ClickPOS support if you have any information in realtion to the above."