ClickPOS will issue a set amount of license per company profile.
The quantity is determined by the amount of user licenses you currently have with ClickPOS.
Please contact ClickPOS support or accounts if you require further information on the licensing of this product.
Accounts: accounts@clickpos.com
Support: help@clickpos.com
Registering (Activation)
1. Once CP Connex has been installed, open it up by double clicking on the icon in the system tray at the lower right hand side of your PC interface.
If the icon is not there, check the desktop for the ClickPOS ConneX Icon and double click it to open.
This will load ClickPOS ConneX service allowing you to open it from the system tray (Follow Step 1)
2. Enter your ClickPOS company and user credentials
These details are the same info you would enter when logging into ClickPOS. The individual username is purely a method to identify who is activating the license within your company.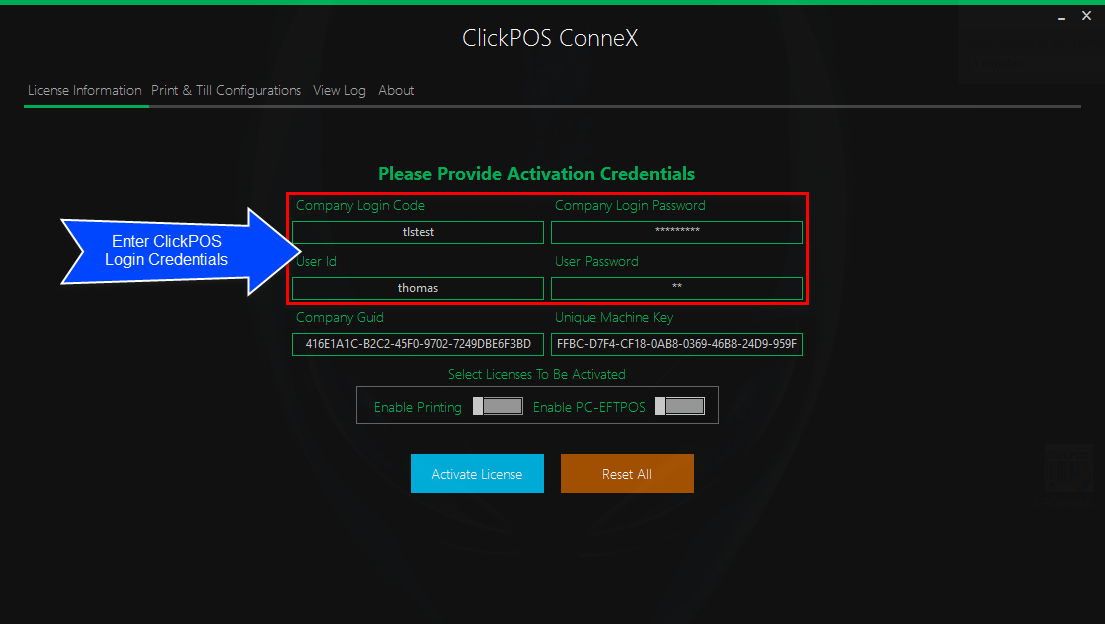 Also enter the company GUID/ Server Key. 
To ascertain you GUID proceed to Maintain > System Admin > Company Details > Click the 'Copy ConneX Company GUID' hyperlink. This will add it to your clipboard so that it can be pasted into ClickPOS ConneX
3. Select your requirements
Currently Printing (Inc Cash Drawer & Label Printing) and PC-EFTPOS (integrated EFTPOS) are available to enable and are considered separate.
Note: You will be required to deactivate your license if you fail to select all requirements and need to activate it later.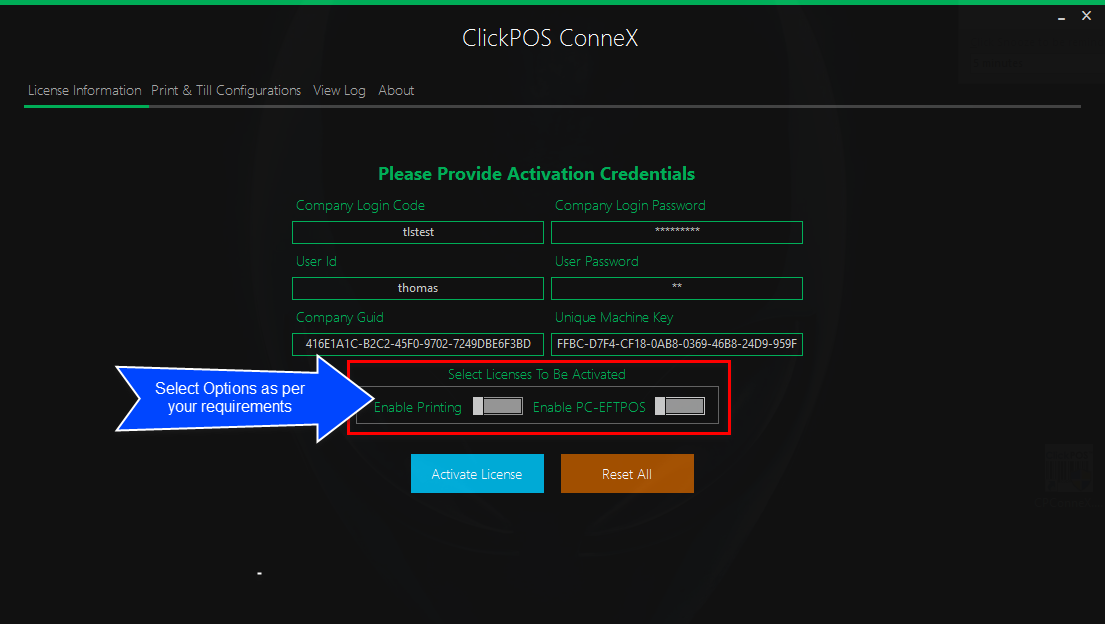 4. Click the Activate License button
Note: It may take up to 30 seconds to activate
5. You will be prompt with a screen indicating the product is registered.
6. Click OK to finalise the activation
7. Complete. The application will automatically close. 
8. Proceed to open CP ConneX again from the windows desktop if you are required to setup anything further. This includes custom logo printing, activating cash drawer features or just to do a test print.