Overview
Within the telecommunications industry, it is imperative to maintain customer devices while in the warranty period and in some cases beyond if the customer chooses to repair a phone at a cost to themselves. 
This guide will instruct how to raise a basic repair job in ClickPOS.
Process:
 1. Navigate to Repairs > Repairs/Service
 2. Select 'Phone'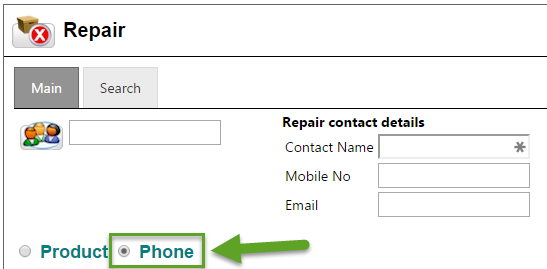 3. Enter the IMEI number in the IMEI field and click the yellow search button.

4. If the IMEI can be located, customer & device information will automatically   populate into the repair job. Verify the IMEI if no results are found. If the IMEI is correct after verification indicates that the IMEI was not sold by that branch. Proceed to raise the job manually.
5. Check populated information is correct and add additional information to the main tab area as per your company or repair center's requirements.
6. Ensure the customers current contact details are correct and update in accordance.
7. Proceed to the Job description tab
8. Complete all required sections
Note: Please verify with your administrator and/or repair center as to what information is required to be fulfilled within this area.
9. Select the relevant status of the repair from the status selection drop down box.
Note: Status may differ from business to business and is 100% managed by your system administrator. Please contact your system administrator if you have any question in relations to which is the best status to select for each stage of the repair process.

10. Navigate to the Loan Item tab if you plan on giving the customer a loan device.
You may skip step 11 if you are not providing the customer with a loan device.
11. Click the check box next to the loan device you will be providing to the customer and click OK to save

12. Proceed to the Replacement Items tab if you have any fees or items that you need to offset cost against the repair job. These fees & charges can be converted to an invoice once the repair has been finalised.
13. Enter a name of the item in the search field if its is an item that you currently carry in inventory or an item that can be sold without inventory. 
14. Select the required item that you wish to add to the repair job. Repeat with any additional items.
15. You may also add items Ad-Hoc meaning that you can make up a barcode, description and a price that can also be add to an invoice at a later stage.
16. simply enter a barcode into barcode field, description of item in description field and a price inclusive of GST and click OK to commit.  

17. At this point in most situations the repair can be left and the device can be dispatched to the relevant repairer.