Navigation:
Accounts > Receivable (income) > Cust.Pay
Overview
This guides covers the process of establishing and processing customer payments.
Before proceeding you will need to ensure that you have prebuilt an account and a bank.
Build Account
Click 'Build Accounts'
Enter an Account Name
Note: This can be anything you like. (General Ledger/Chart of Accounts/Generic Naming)

Select 'Income'
Click OK to save
Click 'Back' to return to the previous page
Build Bank
It's advised that you build the bank that direct deposits are processed into as well as a 'Not Applicable' style entry for other payments such as cash or credit card.
Click 'Build Bank'
Enter an 'Account Name' for the bank (e.g. ANZ Chequing, CBA Income, etc.. or N/A for none)
Enter a Balance (this can be left as is)
Enter an 'Account Number'
Enter a 'Branch' location
Click 'OK' to save
Click 'Back' to return to the previous page
Process Customer Account Payment
Search/select account customer using provided filter
Select 'Account'
Select 'Bank'
Select 'Payment' Method
Enter a 'Reference Number' if applicable
Leave 'Amount' blank as it will automatically populate
Enter 'Notes' if applicable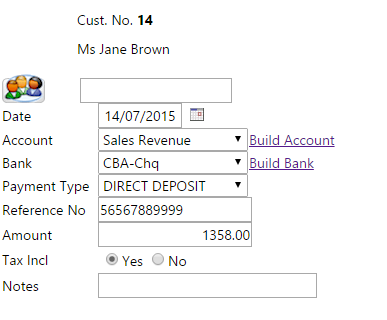 Proceed to enter the amount the customer paid to the right side of the relevant invoice.
Note: You can spread total payment across multiple invoice

Click 'Ok' to save and process payment