Overview
We offer the ability to prevent access to ClickPOS unless logging in via a pre-set IP Address associated with your location.
Important Note: Before proceeding with this guide, please ensure your location (router) has what is known as a 'Static' IP Address
You will be required to contact your Internet Service Provider and verify/request a static IP address.
You may proceed once you have a guaranteed static IP address.
If you proceed without a static IP address you risk the chance of locking yourself out of ClickPOS.
| | |
| --- | --- |
| Navigation : | Maintain > System Administration > Network Address Restriction |
| Target Audience : | Administrators, Network Administrators |

Instructions
Login into ClickPOS with an account that can access Maintain > System Admin
Proceed to Maintain > System Admin > Network Address Restriction
Click 'New'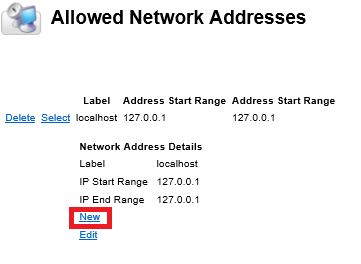 Enter a label for this IP range
Note: You can provide any name that suits
Single IP Address: Enter the same IP Address in both Start Range field and End Range Field
Click Insert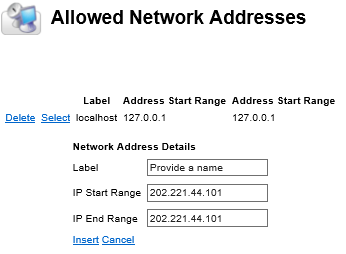 IP Address Range: Enter the first IP Address in the range in Start Range and the last IP Address in the End Range field
Click Insert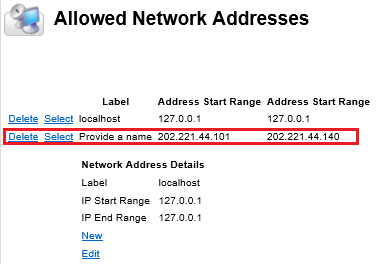 Now that you have applied the IP that are allowed to access ClickPOS, you can now initiate the restriction for the relevant user groups.
Navigate to MAINTAIN > USER GROUPS > Select required group and click EDIT
Note: ClickPOS heavily advise that you do not apply the restriction to your administrator group. This is a preventative measure in the event your IP does change for some reason.
Tick 0.00.200 Restricted to system network addresses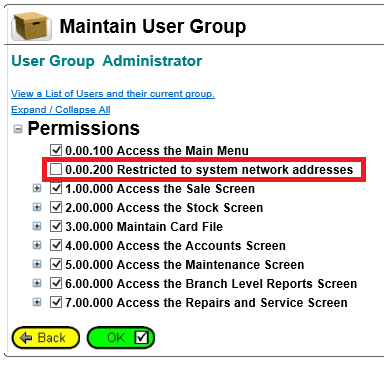 Click OK to save
Repeat with other user groups.