When a Mobile Device is sent away for an ELF you need to process the IMEI swap in
ClickPOS for tracking and account purposes. There are two ways of processing an ELF in
ClickPOS and this guide will cover both.
Returning Products for ELF - Option 1
1. Please note in this option it won't generate a new Invoice stating the IMEI swap.
Navigate to "Repairs" then "Repairs/Service"

Select the "Phone" option, use the IMEI field to find the previous sale details and click
on the arrow button.

3. The IMEI will be displayed at the bottom on the screen. Click on the green arrow next to
the displayed IMEI to select the handset details.
4. The next page will display multiple details about the phone such as sale date, mobile
number, invoice number and Supplier. Click on the "Replacement Items" Tab

5. Tick the "Tick here to Return Phone to Stock" checkbox & enter in Replacement IMEI.

6. This will replace the original Invoice IMEI with the new IMEI number.

Returning Products for ELF - Option 2
1. With this ELF process it will keep the original sale Invoice in ClickPOS and give you
another Invoice showing the IMEI swap for tracking purposes.
2. Navigate to the "Sale" & "Sell Product".

3. Click on the "Refund" button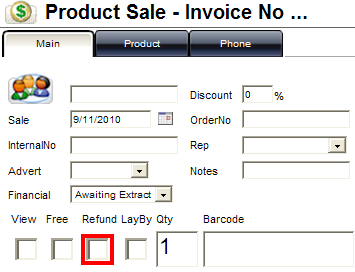 4. Place the IMEI or original Invoice number of sale in the Sale Refunds screen and press
"Search"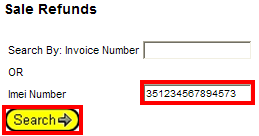 5. Click the "Refund" button.
6. This will take you back to the main sale screen where you need to click back on the "Phone" Tab to sell out the new mobile phone. Please note original sale date & original plan for mobile as you will need to enter this in the new invoice (in doing this customer will have a docket stating the IMEI swap).

7. Fill in the correct plan details from original Invoice, enter in new IMEI number and select
"Search".

8. Under the "Active" Date field you must make sure it shows the original sale date (This will change sale date to current day if not changed).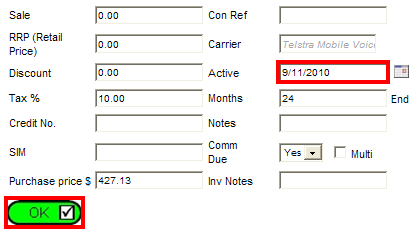 9. The next screen will show the bringing back to stock the old faulty IMEI & the selling out of the new IMEI under the same date and plan of original invoice. Original invoice won't be changed by doing this so you can still track original sale date as well as ELF date.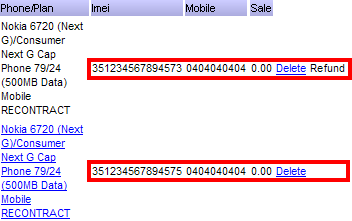 10. Once this sale is completed you will still need to follow the DOA process on how to take the faulty handset out of stock with a credit note.