Overview
Timesheet will allow staff to punch in and out to record their attendance. The time recorded will be utilised for monitoring attendance and processing payroll.
| | |
| --- | --- |
| Navigation : | Home > Scan Time |
| Target Audience : | All Employees |

Instructions
Punch IN (Clocking IN)
Scan your Staff ID
System will confirm with green "IN" icon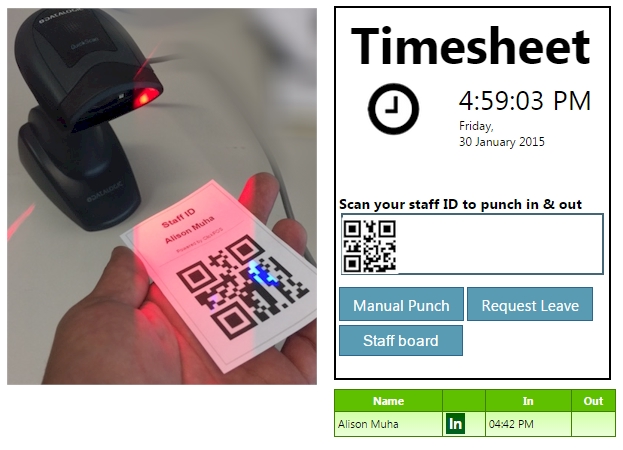 Punch OUT (Clocking OUT)
Scan your Staff ID card
System will confirm with red 'OUT' icon


Recording Breaks
Scan out when going out of office for lunch break or similar
On return scan in again

Manual Punch
You may utilise the manual process in the event you do not have staff cards printed.
Click 'Manual Punch'
Enter the time

Request Leave
This area can be utilised to schedule or request leave. This is to be discussed within your business for general use.

Staff Board
Displays the list of staff times. Refresh the list to see the current list of staff on premise.