Overview
You can display your company logo on the receipts printed by your Epson TM Series Printers.
Models Include: TM-T88, TM-T20, TM-T72, TM-T82
Prerequisites
The following instructions are specific to the Epson TM Series printers ONLY.
Once you have set-up your Epson printer, you may now add your logo to the local PC that is currently attached to the printer.
If you haven't set up your printer, please stop now and proceed to the Epson Printer set-up Instructions located here
Logo attributes
     Note: Logos in most cases are printed in MONO (Black and White)
Please ensure that the logo image meets the following requirements.
Logo Name:                   logo.bmp
PC Storage Location:      C:\logo.bmp
Logo Dimensions:          Width: 130px
                                    Height: 100px
Please Note: The above dimensions are purely a recommendation and we (ClickPOS) advise that you adjust your logo in accordance based on trial and error.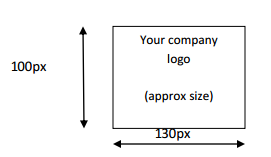 Process (upload & test print)
1. Upload the logo.bmp to all the computers that utilise the EPSON TM series printer.
2. Copy the file to c:\logo.bmp,
3. To print, utilise the "Epson Direct Print" option on the ClickPOS sale screen.
            Sample print