If you operate multiple branches, clickpos can transfer a new tracking field called branch Profile,
so you can report on multiple branches/profit centres as a group in Xero. Eg if you have 10 branches , of which 3 are grouped as one entity, and you want to see a group reporting in Xero.
You can add a profile name in ClickPOS's Store setup, and the profile name is transferred into Xero. To add a group profile, go to ClickPOS > Maintain > System Admin > Store Maintenance Select the branch names, and add a new profile and selected for the branch.
Now you need to assign the new profile name in Xero. Login to Xero > Settings > General Settings > Tracking. The screen below shows two tracking category in Xero.
Tracking category for "Profile" IMPORTANT : You must name the tracking category as "Profile" , exact spelling otherwise it will not work. The Supplier name must also be exactly same as you see in ClickPOS. Eg ABC Co. Profile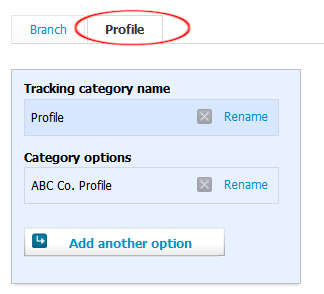 Here is the tracking category for "Branch". This will track each stores total for reporting in Xero. IMPORTANT : the tracking name "Branch" must also be spelled exactly same, AND STORE Names must also be spelled exactly as you see it in ClickPOS. Eg. Collingwood etc.