Users have the ability to change their own personal password
Your password should be changed on a regular basis for security purposes and to stop possible fraudulent behaviour within the business. We advise your password to be kept confidential at all times.
Navigate to the Home screen and select "Change Password".
Enter in current password followed by new password and press "Apply".

Be aware the old password is case sensitive.
The rules for the new passwords are as follows:
The password Must be at least 8 characters long
The password Must be a mix of upper and lower case characters
The password Must have at least one number
The password should have at least one special character(!#%*)


Printing you own Staff ID cards
If you have access to barcode readers, you can print your own Staff ID and use it in various section of ClickPOS to avoid typing in your login details, rather scan your ID card. The ID's are used in the following sections of ClickPOS.
1. Login page of ClickPOS.
2. Timesheet to clock on and off
3. Sale screen, scan to make a new sale.

Once you enter your OLD PASSWORD, the following option will be displayed.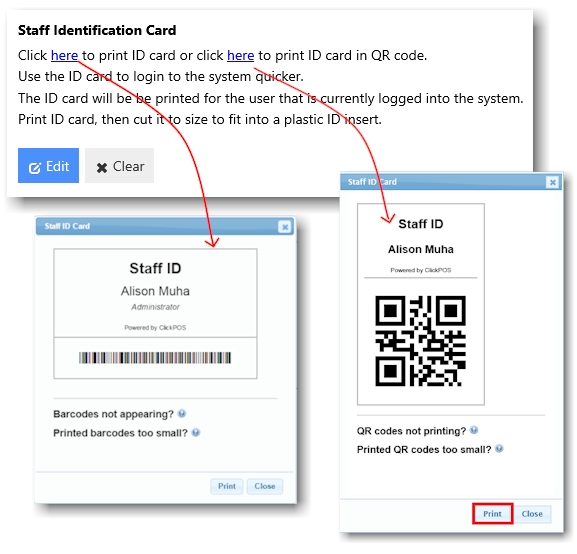 Use the QR code type ID only if you have a 2D scanner.
Print Troubleshooting
No QR code image is displayed when printing QR code
Microsoft Internet Explorer Only
Go to File – Page Setup – Tick 'Background Colour and Images' – Click Ok
QR code too small
Microsoft Internet Explorer Only
Go to File – Page Setup – UnTick 'Enable Shrink to Fit' – Click Ok
Vertical barcode
The barcode appears as text instead of a barcode eg. *70$7c..$11*
You need to download a barcode font called "3 of 9 Barcode" and install it.
"3of9 Barcode" Download installation guide and font here